We Place Dental Implants in Newnan, GA
There are many situations that result in missing teeth. Sometimes weakened or damaged teeth must be removed in order to preserve the rest of the mouth. Accidents can cause teeth to be knocked out or severely damaged. When this occurs, you're faced with a decision on how to replace the missing tooth. The hole must be filled quickly in order to prevent other teeth from shifting around. A dental implant is one way to replace a missing tooth, requiring a surgical procedure to place a metal post that will later be covered with an artificial tooth. The team at Coweta Dentistry is able to complete dental implant procedures at all three of our Newnan, GA locations. Please get in touch with our team if you would like to learn more about this option or if you want to schedule an appointment. 
The Benefits of Dental Implants
There is more than one option to replace missing teeth. A dental implant is just one method of replacement. There is also the option for dental bridges or partial dentures. Our team can help you figure out which option is best for you and your lifestyle. If you're still deciding which option you'd like to use, we've compiled a list of benefits our dental implants in Newnan, GA provide:
Convenience – A dental implant is fixed in place, making it much more convenient than removable dentures that must be removed at night and can shift during daily activities, like eating.
Retain Surrounding Teeth – A dental bridge uses surrounding teeth to support the artificial tooth. This requires the grinding of your natural teeth on each side of the gap. A dental implant does not require this, allowing you to keep all teeth intact, as well as making flossing and brushing easier.
Durability – When cared for properly, a dental implant is able to last much longer than bridges or partial dentures. 
The Process of Placing a Dental Implant
It's important to know that a dental implant cannot be completed in one quick trip to the dentist. The placement process actually requires several months and numerous visits in order to be completed safely and correctly. After an initial consultation that will allow the doctor to plan for the placing and sizing of the implant, you'll first undergo a procedure to place the implant in the jaw. The implant will then be allowed to heal and integrate with the bone for several months. In some cases, a second surgery is needed to place the post on the implant if it was not done in the first procedure. After the tissues have been allowed to heal fully, you'll return, and the artificial tooth will be created to fit over the post and will be secured in place. If you would like to learn more about this process or you're ready to schedule a consultation for your procedure, please do not hesitate to reach out to us.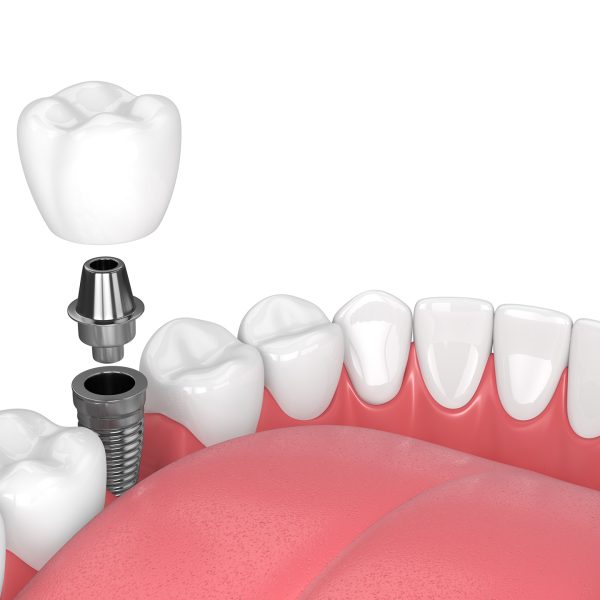 I came in on 3/25/2019 to have a deep cleaning done. This wasn't an easy task as I still have braces on and have no date in the near future for their removal. Nonetheless, from the moment I walked in, the staff member at the front desk was very welcoming. The doctor who came to numb me was very kind and comforting. The young lady who did my x-rays was also, and the hygentist was simply amazing. He was very friendly and caring. He took time to explain everything he was doing and checked in often to ask how I was doing. He was also very personable. So, I'd like to thank you all for such a pleasant and wonderful dental experience!!!
The dentists & all the staff are very caring, knowledgeable & efficient. I've had a lot of dental work done over the years & this practice is top notch!! I've not had any pain with any of their procedures, in fact, I actually fell asleep during a root canal (no calming medications involved) & woke myself up snoring!.....lol! True story! I am grateful for their excellent care & highly recommend them!!
I have been going to this dentistry practice my entire life and have never had anything less than a great experience. All the staff are wonderful, kind, and caring and always welcoming. They are very responsive and won't push anything on you you don't need. The dentists and assistants are all helpful, they remember who you are and will take great care of you.
3 Amazing Locations in Newnan, GA
In the heart of downtown Newman