All our licensed professionals maintain the highest levels of accreditation and pursue ongoing education to stay abreast of the latest trends in dentistry.
Ruth Drive Location

56 Jefferson Street Location
50 Jefferson Street Location
Find helpful information in our digital library.
Posts for tag: sensitive teeth
By Coweta Dentistry Associates
February 28, 2014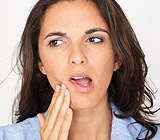 Nothing ruins a thirst-quenching cold beverage or a dish of your favorite ice cream like a sudden pang of tooth sensitivity. If you're experiencing this problem — and especially if there are other triggers, like biting down — we encourage you to make an appointment. It could be something harmless and temporary, but it's always prudent to check. At the very least, you'll feel better once the underlying problem is identified and treated if necessary.
Here are some common sources of tooth sensitivity:
Enamel erosion — typically caused by acidic beverages/food, regurgitation of stomach acids (due to gastroesophageal reflux disease [GERD] or the eating disorder bulimia), or improper brushing
Tooth decay — a sugary diet and poor dental hygiene may be contributing factors
Tooth fracture or chipping due to tooth grinding (bruxism) or other trauma
Gum recession due to age, improper tooth brushing, or gum disease
Filling that needs repair or replacement
Residual effects of recent dental work
Some things you can try at home to minimize sensitivity include:
Ease up on the toothbrush; a light touch is all that's needed to dislodge daily plaque build-up
Try using fluoride-containing toothpaste like an ointment over the affected area (fluoride decreases fluid exchange from the oral environment to the nerve inside the tooth)
Take a non-steroidal anti-inflammatory such as ibuprofen (use judiciously and according to the package insert guidelines)
Discomfort related to recent dental work should resolve on its own; give it several weeks. If you're feeling discomfort for another reason, even if the sensitivity subsides, the underlying cause may still require attention.
If you would like more information about tooth sensitivity, please contact us or schedule an appointment for a consultation. You can also learn more about this topic by reading the Dear Doctor magazine article "Sensitive Teeth."
By Coweta Dentistry Associates
September 05, 2013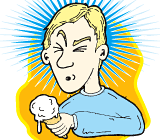 "We all scream for ice cream," the saying goes. But what if eating ice cream — or any very cold or hot food — literally makes you want to scream because your teeth hurt so much?
What causes sensitivity in teeth?
Understanding the anatomy of a tooth helps explain what happens when a tooth becomes sensitive to heat and cold. A tooth is composed of three types of tissue: a hard outer shell of enamel, the body of the tooth composed of the dentin, and an interior tissue of the pulp.
Enamel: The enamel forms the outside of the crown, the part of the tooth you normally see. Made of densely packed crystals of calcium, it is resistant to wear. It is not living tissue, and does not contain nerves, but it is capable of transmitting temperature like hot and cold.
Dentin: Inside the tooth's crown and root is a living tissue called dentin, which is a porous structure similar to bone. It is composed of microscopic tubules containing living cells, which are encased in a hard substance made of calcium crystals.
Pulp: The living dentin transmits sensation through to the pulp, which is in the center of the tooth and contains the tooth's blood vessels and nerves.
A tooth's enamel normally protects the dentin from exposure to extremes of temperature and pressure. If you wear away the enamel and expose the dentin, it will pass sensation through to the nerves in the pulp more directly. The result can range from a twinge to an excruciating pain.
Sensitivity can be caused by:
Overzealous tooth brushing resulting in enamel wear and consequently dentin exposure and wear.
Enamel and dentin erosion by acids in the foods and beverages you eat and drink.
Tooth decay — the most common cause of sensitivity. Decay destroys enamel and dentin inflaming and infecting the living tissues of the pulp, which become increasingly painful.
What can you do to make your teeth less sensitive?
Use a soft bristle tooth brush, and brush the affected teeth gently to remove all bacterial plaque. We can advise you on safe and effective brushing techniques.
Use toothpaste that contains fluoride. Fluoride strengthens tooth surfaces and makes them more resistant to sensitivity and decay.
Ask us about professionally applied fluoride varnishes or filling materials that can cover and replace sensitive or lost tooth structure.
Of course, if the problem is caused by tooth decay, make an appointment with us to remove the decay and place a filling in the sensitive teeth.
Contact us today to schedule an appointment to discuss your questions about sensitive teeth. You can also read the Dear Doctor magazine article "Sensitive Teeth."