All our licensed professionals maintain the highest levels of accreditation and pursue ongoing education to stay abreast of the latest trends in dentistry.
Ruth Drive Location

56 Jefferson Street Location
50 Jefferson Street Location
Find helpful information in our digital library.
Posts for tag: gum recession
By Coweta Dentistry Associates
October 21, 2018
If you've noticed some of your teeth seem to be "longer" than you remembered, it's not because they've grown. Rather, your gums have shrunk back or receded to expose more of the underlying tooth.
It's not just unattractive — gum recession could lead to severe consequences like bone or tooth loss. But before we begin treatment we need to find out why it happened. Knowing the true cause will help us put together the right treatment plan for your situation.
Here are 4 of the most common causes for gum recession and what we can do about them.
The kind of gum tissues you have. There are two kinds of risk factors: those you can control and those you can't. Because you inherited the trait from your parents, your gum tissue thickness falls into the latter category. Although there are degrees within each, gum tissues are generally classified as either thick or thin. If you have thin tissues, you're more susceptible to gum recession — which means we'll need to be extra vigilant about caring for your gum health.
Tooth position. Normally a tooth erupts during childhood in the center of its bony housing. But it can erupt outside of it, often resulting in little to no gum tissue growth around it. The best solution is to move the tooth to a better position within the bony housing through orthodontics. This in turn could stimulate gum growth.
Over-aggressive brushing. Ironically, gum recession could be the result of brushing, one of the essential hygiene tasks for dental health. Consistently brushing too hard can inflame and tear the tissues to the point they begin to recede. Brushing doesn't require a lot of force to remove plaque: use gentle, circular motions and let the detergents and mild abrasives in your toothpaste do the rest.
Periodontal (gum) disease. This, by far, is the greatest cause for gum recession: an infection caused by built-up bacterial plaque. The weakened tissues begin to detach from the teeth and recede. Gum disease can be treated with aggressive plaque removal and supporting techniques; but it's also highly preventable. Practicing daily brushing and flossing and regularly visiting your dentist for thorough cleanings and checkups are the best practices for keeping your gums as healthy as possible.
If you would like more information on gum recession, please contact us or schedule an appointment for a consultation. You can also learn more about this topic by reading the Dear Doctor magazine article "Gum Recession."
By Coweta Dentistry Associates
May 31, 2013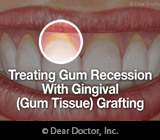 Did you know that millions of Americans have some degree of gum recession? Are you one of them?
Gum recession is the loss of the pink gum tissue that surrounds your teeth and can lead to exposure of the root surface of your teeth. In addition to the obvious aesthetic issues, recession can also result in tooth loss in very severe cases.
So, what causes gum recession? Well, first of all, if you are genetically predisposed to having thin gum tissues, your gums will be more prone to receding than those with thick tissues. However, other factors include ineffective oral hygiene, excessive brushing and mal-positioned teeth. In addition, poor fitting appliances, such as partial dentures can also cause gum recession.
If you think you are suffering from gum recession, you should make an appointment with us immediately, so that we can perform a thorough examination to accurately diagnose your condition. We'll look at your teeth and their position within the supporting bone and surrounding gum tissue. Depending upon our diagnosis, we may recommend a technique known as gum or soft tissue grafting, which allows us to regenerate lost or damaged gum tissue. Grafting is the surgical manipulation of tissue, taking it from one site and moving it to another, so that it can attach and grow.
There are two basic gum tissue grafting techniques, the free gingival graft and the connective tissue graft. Here is a description of each:
Free Gingival Grafting. With this technique, we remove a thin layer of tissue from the roof of your mouth or any other site where the tissues are identical to gum tissue (the donor). We then shape and transplant it to the recipient site to create new gum tissue. Both donor and recipient sites heal within two to three weeks.
Connective Tissue Grafting. This technique is used to cover exposed roots in the treatment of gum recession. It involves more microsurgical maneuvers to prepare both the donor and recipient sites. We take donor tissue from beneath the surface of the roof of your mouth and then cover it with the gum tissue surrounding the exposed root. Another alternative is to use processed tissue rather than your own tissue as a donor material.
When you visit us for an appointment, we will assess which procedure is best-suited to your needs.
If you would like more information about gum recession and plastic surgery, please contact us or schedule an appointment for a consultation. You can also learn more by reading the Dear Doctor magazine article "Periodontal Plastic Surgery."