All our licensed professionals maintain the highest levels of accreditation and pursue ongoing education to stay abreast of the latest trends in dentistry.
Ruth Drive Location

56 Jefferson Street Location
50 Jefferson Street Location
Find helpful information in our digital library.
Posts for tag: dental implant
By Coweta Dentistry Associates
April 09, 2015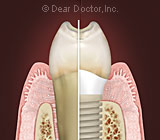 How much do you know about dental implants? Test yourself with this quiz.
Earliest recorded attempts at using dental implants were from

Medieval England
The ancient Mayans
U.S.A. in the 1950s

Dental implants are called endosseous. What does this mean?

They fuse with the bone
They are inside the mouth
They are not real teeth

What are most dental implants made of?

Aluminum
Titanium
Steel

What part of the tooth does an implant replace?

The implant is the root replacement
The implant is the root plus the crown
The implant is the crown

What is the success rate of dental implants?

50 percent or less
75 percent
95 percent or more

What could cause an implant to fail?

Smoking or drug use
Poor bone quality and quantity at the implant site
Both of the above

What is a tooth's emergence profile?

The implant and crown's shape as it emerges from beneath the gum line
A measure of the urgency of the tooth replacement
A measure of the time it takes for you to be able to chew on the new implant

What are some of the factors that go into the aesthetics of designing the crown?

Choice of materials
Color matching
Both of the above
Answers:
b. The concept of dental implants goes back to the Mayan civilization in 600 AD.
a. The word endosseous (from endo meaning within and osseo meaning bone) refers to the implant's ability to fuse with or integrate with the bone in which it is placed.
b. Most implants are made of a titanium alloy, a metallic substance that is not rejected by the body and is able to fuse with the bone.
a. The term "implant" refers to the root replacement, which is anchored in the gum and bone. A crown is put around the implant where it emerges from the gumline.
c. The majority of studies have shown long term success rates of over 95 percent.
c. Factors that could cause an implant to fail include general health concerns such as smoking and drug use, osteoporosis, or a compromised immune system; poor bone quality or quantity; and poor maintenance such as lack of proper brushing and flossing.
a. The emergence profile has a lot to do with the implant's natural appearance. It involves the way the crown, which attaches to the implant, seemingly emerges through the gum tissue like a natural tooth.
c. Choices such as materials, color, and position can be worked out in the design of a customized temporary crown, which acts as a template or blueprint for a final crown.
Contact us today to schedule an appointment to discuss your questions about dental implants. You can also learn more by reading the Dear Doctor magazine article "Matching Teeth & Implants."
By Coweta Dentistry Associates
February 12, 2015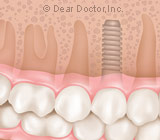 A dental implant as a permanent replacement for a missing tooth can match or even look better than your original tooth. How this happens takes knowledge, skill, experience, and even some art.
Here are some of the factors involved:
Bone quantity and quality: To look and function like an original tooth, an implant must be supported by an adequate base of (jaw) bone and gum tissue. Bone has a tendency to melt away or resorb after a tooth is lost. Using new bone grafting techniques can help minimize the bone loss that occurs during healing at the extraction site. Bone grafting can also be used to rebuild lost bone at the implant site.
Adequate bone supporting neighboring teeth: If you lose bone that supports teeth on either side of an implant, the papillae (the little pink triangles of gum tissue between the teeth) may not regenerate after the implant is placed.
Your inborn tissue type: If your gum tissues are thin and delicate rather than thick and robust, they will be more difficult to work with. To ensure that there is sufficient gum tissue support, (gum) grafting may be necessary.
Using the temporary crown as a template: A dental implant actually replaces a tooth root. Most dental implants are made of commercially pure titanium, which fuses with the bone in your jaw, making it very stable. The crown, the part of the tooth that is visible above the gum line, is attached to the implant; a customized temporary crown can be fitted to the implant. The temporary crown is a trial for the final crown. It can be used to assess color, shape, the appearance of your smile, and the implantâ??s function in your bite and speech. It gives you the opportunity to decide about design adjustments before the final, permanent crown is placed.
The skill, experience, and collaboration of your dental team: Each situation is different. The final success of your implant depends on your pre-surgical assessment and diagnosis, as well as how the surgical and restorative phases of treatment are performed. The use of an outstanding dental laboratory is vital to a successful result.
Contact us today to schedule an appointment for an assessment or to discuss your questions about dental implants. You can also learn more by reading the Dear Doctor magazine article "Matching Teeth & Implants."
By Coweta Dentistry Associates
October 28, 2013
It is not often that you find a celebrity who is willing to speak candidly about any cosmetic or restorative dentistry that he or she has had. Instead, most prefer that their fans just assume that their dazzling "Hollywood" smile is something that just happened naturally. However, that is not the case with Kathy Ireland, the former Sports Illustrated cover girl, current business mogul and founder of kathy ireland Worldwide, a billion dollar marketing and design firm. In a Dear Doctor magazine cover story she talks openly about her dental experiences, injuries and treatment so that people worldwide can understand what may be possible for them.
For Kathy, it happened several years ago when she was playing with her husband and children in their driveway. Kathy decided that she would stand in her children's wagon and surf across their driveway. Instead, she ended up "face-planting," as she describes it, in a freak accident that left her with a broken nose, split forehead and several broken teeth. She recalls that it sounded like a watermelon had smashed. Luckily, her husband, an emergency room physician, was on hand to care for her. Kathy is just as thankful to her cosmetic and restorative dentist who restored her trademark smile with some veneers and a dental implant. Today, the only reminder she has from this accident is a small scar on her nose that she covers with a little makeup.
You would think that this accident would be enough trauma for one person; however, Kathy describes an earlier accident where she knocked out a tooth and then later knocked it loose again. Kathy also wanted to take the time to let readers know that her dental implant experiences were "pretty easy." She did recall, "hearing all the sounds while all of it was going on" and then added, "but I have to tell you, that after being a mom and having kids, going to the dentist...is like going to the spa!" She said that she has even fallen asleep in the dental chair.
To learn more about Kathy Ireland, continue reading the Dear Doctor magazine article "Kathy Ireland." Or if you think cosmetic or restorative dentistry is right for you, contact us today to schedule an appointment to discuss your specific goals.