All our licensed professionals maintain the highest levels of accreditation and pursue ongoing education to stay abreast of the latest trends in dentistry.
Ruth Drive Location

56 Jefferson Street Location
50 Jefferson Street Location
Find helpful information in our digital library.
Posts for tag: chipped tooth
By Coweta Dentistry Associates
May 10, 2017
Everyone loves a concert where there's plenty of audience participation… until it starts to get out of hand. Recently, the platinum-selling band Fifth Harmony was playing to a packed house in Atlanta when things went awry for vocalist Camila Cabello. Fans were batting around a big plastic ball, and one unfortunate swing sent the ball hurtling toward the stage — and directly into Cabello's face. Pushing the microphone into her mouth, it left the "Worth It" singer with a chipped front tooth.
Ouch! Cabello finished the show nevertheless, and didn't seem too upset. "Atlanta… u wild… love u," she tweeted later that night. "Gotta get it fixed now tho lol." Fortunately, dentistry offers a number of ways to make that chipped tooth look as good as new.
A small chip at the edge of the tooth can sometimes be polished with dental instruments to remove the sharp edges. If it's a little bigger, a procedure called dental bonding may be recommended. Here, the missing part is filled in with a mixture of plastic resin and glass fillers, which are then cured (hardened) with a special light. The tooth-colored bonding material provides a tough, lifelike restoration that's hard to tell apart from your natural teeth. While bonding can be performed in just one office visit, the material can stain over time and may eventually need to be replaced.
Porcelain veneers are a more long-lasting solution. These wafer-thin coverings go over the entire front surface of the tooth, and can resolve a number of defects — including chips, discoloration, and even minor size or spacing irregularities. You can get a single veneer or have your whole smile redone, in shades ranging from a pearly luster to an ultra-bright white; that's why veneers are a favorite of Hollywood stars. Getting veneers is a procedure that takes several office visits, but the beautiful results can last for many years.
If a chip or crack extends into the inner part of a tooth, you'll probably need a crown (or cap) to restore the tooth's function and appearance. As long as the roots are healthy, the entire part of the tooth above the gum line can be replaced with a natural-looking restoration. You may also need a root canal to remove the damaged pulp material and prevent infection if the fracture went too far. While small chips or cracks aren't usually an emergency (unless accompanied by pain), damage to the tooth's pulp requires prompt attention.
If you have questions about smile restoration, please contact us and schedule an appointment. You can read more in the Dear Doctor magazine articles "Porcelain Veneers: Strength & Beauty As Never Before" and "Porcelain Crowns & Veneers."
By Coweta Dentistry Associates
January 13, 2015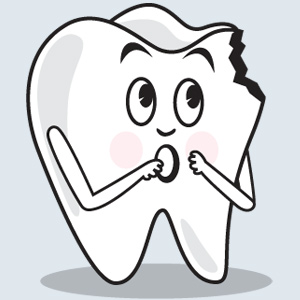 Having a chipped tooth certainly can make life more difficult. It not only keeps you from wanting to smile, but it may also make it harder to eat your favorite foods. And that can be a major problem — especially if you need to eat up to 80 pounds of bamboo every day to stay healthy.
Just ask Bai Yun, the female giant panda at the San Diego Zoo. The 23-year-old animal recently chipped one of her lower canines, and her keepers were concerned that it might impair her ability to get good nutrition (pandas spend as many as 12 hours a day munching on the woody plants). So they decided it was time for a little dental work!
What followed was not unlike a regular visit to the dental office… except that, instead of sitting in a chair, the 227-pound panda reclined on a large table. After being anesthetized, the patient's teeth were examined, and x-rays were taken. A composite resin was applied to the damaged tooth, and it was cured with a special light. After the repair work was done, her teeth were given a professional cleaning. When the anesthesia wore off, Bai Yun was released in good health — and ready to eat more bamboo.
Tooth bonding with composite resin is the restoration of choice in many situations. This method can be used to repair small chips or cracks in the teeth, and to clear up some spacing irregularities. The resin itself is a mixture of tough, translucent plastic and glass components that can be made in a number of different shades, which look remarkably like the tooth's natural enamel coating. And the bonding material links up so well with the tooth structure that this treatment can be expected to last for years.
Another benefit of bonding is that it can be done right in the office — there's no lab work involved (as there could be for veneers or crowns, for example). That makes it a relatively simple and economical treatment that can typically be completed in a single visit. It's ideal for fixing minor flaws that don't involve a great deal of tooth structure. It's also a cost-effective solution for teenagers who need cosmetic dental work, but must wait until they have stopped growing to get more permanent restorations.
While it isn't usually as long-lasting as restorations like crowns and veneers, cosmetic bonding is a minimally invasive, reversible treatment that can keep your smile healthy and bright for years to come. And that's important — whether or not you spend most of your day eating bamboo and posing for snapshots at the zoo.
If you have questions about whether cosmetic bonding could help your smile look its best, please contact us or schedule an appointment for a consultation. You can learn more by reading the Dear Doctor magazine articles "Repairing Chipped Teeth" and "Artistic Repair Of Front Teeth With Composite Resin."
By Coweta Dentistry Associates
March 22, 2013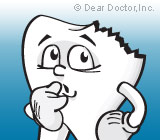 Your son has fallen and hit his face against a hard surface. Not only is he in pain but now there is also a chip missing from his front tooth. He is worried that his smile will never be the same. What should you do?
Answer: If you can find that missing chip, sometimes we can bond the fragment back on to the tooth. The tooth should be evaluated and repaired as soon as possible, although in the absence of other signs and symptoms of injury, and if your child is not in acute pain, it can probably wait up to 12 hours.
If the fragment can't be found, then the tooth can be restored with tooth-colored filling materials, which are also physically bonded to the natural tooth. Done well, these "composite resin" fillings can last for years and look perfectly natural. They may eventually need to be replaced with something more permanent.
If the chipped tooth is a child's primary (baby) tooth rather than a permanent (adult) tooth, the treatment will be similar.
However, a blow to a tooth can cause damage to the pulp — the living tissue within the tooth, which can become infected and die. If the damage to a primary tooth is too extensive it may be better to remove it to avoid damage to an underlying and developing permanent tooth. A place-holding appliance called a space maintainer may be used. If it is a permanent tooth it may need root canal treatment.
If a tooth is not chipped but is loosened or tender to the touch, it may require temporary stabilization, called splinting, until it has healed. Sometimes no treatment is required. If there has been a fracture to the tooth's root (the part below the gum line) it may heal by itself, or it may require further treatment especially if it is a permanent tooth, depending on the individual situation.
It is important to evaluate teeth that have been hit or damaged as a result of injury to ensure that they remain healthy and functional. We will keep track of the tooth or teeth, with observation, x-rays when necessary and monitoring over time to make sure no permanent damage has been done.
Contact us today to schedule an appointment or to discuss your questions about repairing a chipped tooth. You can also learn more by reading the Dear Doctor magazine article "The Field-Side Guide to Dental Injuries."