All our licensed professionals maintain the highest levels of accreditation and pursue ongoing education to stay abreast of the latest trends in dentistry.
Ruth Drive Location

56 Jefferson Street Location
50 Jefferson Street Location
Find helpful information in our digital library.
Posts for: August, 2017
By Coweta Dentistry Associates
August 16, 2017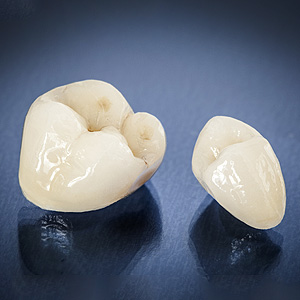 All crowns are designed to restore functionality to a damaged tooth. But crowns can differ from one another in their appearance, in the material they're made from, and how they blend with other teeth.
A crown is a metal or porcelain artifice that's bonded permanently over a decayed or damaged tooth. Every crown process begins with preparation of the tooth so the crown will fit over it. Afterward, we make an impression of the prepared tooth digitally or with an elastic material that most often is sent to a dental laboratory to create the new crown.
It's at this point where crown composition and design can diverge. Most of the first known crowns were made of metal (usually gold or silver), which is still a component in some crowns today. A few decades ago dental porcelain, a form of ceramic that could provide a tooth-like appearance, began to emerge as a crown material. The first types of porcelain could match a real tooth's color or texture, but were brittle and didn't hold up well to biting forces. Dentists developed a crown with a metal interior for strength and a fused outside layer of porcelain for appearance.
This hybrid became the crown design of choice up until the last decade. It is being overtaken, though, by all-ceramic crowns made with new forms of more durable porcelain, some strengthened with a material known as Lucite. Today, only about 40% of crowns installed annually are the metal-porcelain hybrid, while all-porcelain crowns are growing in popularity.
Of course, these newer porcelain crowns and the attention to the artistic detail they require are often more expensive than more traditional crowns. If you depend on dental insurance to help with your dental care costs, you may find your policy maximum benefit for these newer type crowns won't cover the costs.
If you want the most affordable price and are satisfied primarily with restored function, a basic crown is still a viable choice. If, however, you would like a crown that does the most for your smile, you may want to consider one with newer, stronger porcelain and made with greater artistic detail by the dental technician. In either case, the crown you receive will restore lost function and provide some degree of improvement to the appearance of a damaged tooth.
If you would like more information on porcelain crown, please contact us or schedule an appointment for a consultation.
By Coweta Dentistry Associates
August 01, 2017
What's an actor's most important feature? According to Vivica A. Fox, whose most recent big-screen role was in Independence Day: Resurgence, it's what you see right up front.
"On screen, your smile and your eyes are the most inviting things that bring the audience in" she said. "Especially if you play the hot chick."
But like lots of people, Vivica reached a point where she felt her smile needed a little help in order to look its best. That's when she turned to a popular cosmetic dental treatment.
"I got veneers years ago," Ms. Fox told Dear Doctor magazine in a recent interview, "just because I had some gapping that probably only I noticed."
What exactly are dental veneers? Essentially, they are thin shells of lustrous porcelain that are permanently attached to the front surfaces of the teeth. Tough, lifelike and stain-resistant, they can cover up a number of defects in your smile — including stains, chips, cracks, and even minor spacing irregularities like the ones Vivica had.
Veneers have become the treatment of choice for Hollywood celebs — and lots of regular folks too — for many reasons. Unlike some treatments that can take many months, it takes just a few appointments to have veneers placed on your teeth. Because they are custom made just for you, they allow you to decide how bright you want your smile to be: anywhere from a natural pearly hue to a brilliant "Hollywood white." Best of all, they are easy to maintain, and can last for many years with only routine care.
To place traditional veneers, it's necessary to prepare the tooth by removing a small amount (a millimeter or two) of its enamel surface. This keeps it from feeling too big — but it also means the treatment can't be reversed, so once you get veneers, you'll always have them. In certain situations, "no-prep" or minimal-prep veneers, which require little or no removal of tooth enamel, may be an option for some people.
Veneers aren't the only way to create a better smile: Teeth whitening, crowns or orthodontic work may also be an alternative. But for many, veneers are the preferred option. What does Vivica think of hers?
"I love my veneers!" she declared, noting that they have held up well for over a decade.
For more information about veneers, please contact us or schedule an appointment for a consultation.