All our licensed professionals maintain the highest levels of accreditation and pursue ongoing education to stay abreast of the latest trends in dentistry.
Ruth Drive Location

56 Jefferson Street Location
50 Jefferson Street Location
Find helpful information in our digital library.
Posts for: October, 2015
By Coweta Dentistry Associates
October 22, 2015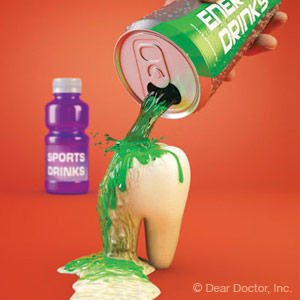 Tooth enamel erosion is a serious issue for many children that can result in permanent impairment of oral health. The problem isn't just bacterial acid that causes tooth decay — it's also the high acid content of sodas, energy and sports drinks widely popular among children and teenagers today.
Enamel is made of the strongest substance in the human body, which enables it to shield the inner layers of the teeth from disease and other environmental factors. Its chief nemesis, though, is acid: when enamel interacts with high concentrations of acid for a prolonged time, its mineral content will begin to soften and dissolve, a process known as de-mineralization. Saliva is the enamel's main protection against acid with the ability to neutralize (or buffer) acid and restore some of the enamel's mineral content, usually within thirty minutes to an hour after we eat.
The high acid content of many popular beverages, however, can overwhelm saliva's buffering ability, especially if a person is sipping for an extended time on an acidic drink. This kind of exposure is different from acid produced by bacteria that causes tooth decay: bacterial acid tends to concentrate in specific areas of the teeth, while the constant wash from acidic beverages will have a more generalized eroding effect on teeth.
This level of enamel loss is irreversible, which can leave a tooth in peril of decay and ultimate loss — and increase long-term dental care and costs. The best strategy is to have your child stop or significantly curtail drinking highly acidic beverages. Rather than drink sports beverages for hydration, substitute water, nature's hydrator. Milk can also be a viable beverage substitute.
If you do allow some acidic beverages, try to limit them to mealtimes and discourage extended sipping. Look for drinks with added calcium as this can reduce the beverage's erosive potential. The goal is to reduce the amount and duration beverage acid is in contact with tooth enamel.
Making these changes will help greatly to protect your child's tooth enamel, and give saliva a chance to do its job protecting it. Your efforts will also increase your child's chances of better dental health in the future.
If you would like more information on dental erosion, please contact us today to schedule an appointment for a consultation. You can also learn more about this topic by reading the Dear Doctor magazine article "Dental Erosion."
By Coweta Dentistry Associates
October 07, 2015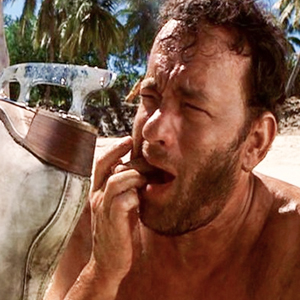 Did you see the move Cast Away starring Tom Hanks? If so, you probably remember the scene where Hanks, stranded on a remote island, knocks out his own abscessed tooth — with an ice skate, no less — to stop the pain. Recently, Dear Doctor TV interviewed Gary Archer, the dental technician who created that special effect and many others.
"They wanted to have an abscess above the tooth with all sorts of gunk and pus and stuff coming out of it," Archer explained. "I met with Tom and I took impressions [of his mouth] and we came up with this wonderful little piece. It just slipped over his own natural teeth." The actor could flick it out with his lower tooth when the time was right during the scene. It ended up looking so real that, as Archer said, "it was not for the easily squeamish!"
That's for sure. But neither is a real abscess, which is an infection that becomes sealed off beneath the gum line. An abscess may result from a trapped piece of food, uncontrolled periodontal (gum) disease, or even an infection deep inside a tooth that has spread to adjacent periodontal tissues. In any case, the condition can cause intense pain due to the pressure that builds up in the pus-filled sac. Prompt treatment is required to relieve the pain, keep the infection from spreading to other areas of the face (or even elsewhere in the body), and prevent tooth loss.
Treatment involves draining the abscess, which usually stops the pain immediately, and then controlling the infection and removing its cause. This may require antibiotics and any of several in-office dental procedures, including gum surgery, a root canal, or a tooth extraction. But if you do have a tooth that can't be saved, we promise we won't remove it with an ice skate!
The best way to prevent an abscess from forming in the first place is to practice conscientious oral hygiene. By brushing your teeth twice each day for two minutes, and flossing at least once a day, you will go a long way towards keeping harmful oral bacteria from thriving in your mouth.
If you have any questions about gum disease or abscesses, please contact us or schedule an appointment for a consultation. You can learn more by reading the Dear Doctor magazine articles "Periodontal (Gum) Abscesses" and "Confusing Tooth Pain."