All our licensed professionals maintain the highest levels of accreditation and pursue ongoing education to stay abreast of the latest trends in dentistry.
Ruth Drive Location

56 Jefferson Street Location
50 Jefferson Street Location
Find helpful information in our digital library.
Posts for: July, 2014
By Coweta Dentistry Associates
July 17, 2014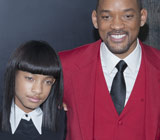 Her parents Will and Jada are Hollywood royalty, who helped her land her first acting role when she was 7. She released a hit single, "Whip My Hair," before she had quite reached the age of 10; shortly afterward, she was signed to a record label. Yet the young singer and actress Willow Smith has at least one thing in common with plenty of 'tweens and teens across America: She needed to wear braces to correct problems with the alignment of her teeth.
Why do braces seem to be a part of growing up for so many kids? One answer is because they work so well. Braces apply gentle pressure to the teeth through a thin, flexible wire called an archwire. Attached to the teeth with a metal or ceramic bracket, the archwire exerts a light force which causes teeth to gradually move into better positions. Sometimes, when additional force is needed, elastic bands or other appliances may be used in conjunction with braces.
Most everyone is familiar with the silvery metal "tracks" of traditional braces. But did you know that there are a number of other options too? For a more inconspicuous look, you may be able to have braces with tooth-colored ceramic brackets; then, only the thin archwire will be visible in your mouth. It's even possible in some cases to place the metal wires and brackets on the tongue side of the teeth. With this system, called lingual braces, the orthodontic hardware is truly invisible.
What if you didn't need metal braces at all? Some people can get good results using a system of clear plastic aligners instead of braces. The aligners are worn 23 hours a day, but can be taken off for cleaning and for important events. They work best for correcting mild or moderate alignment problems.
Still, plenty of people feel that if they're going to wear braces, they might as well flaunt them. That's why some types of braces are available with bands that come in different colors. When Willow's brother Jayden wore braces, he was reported to favor red and black ones. Jayden, who is about two years older than his sister, had his braces removed just before Willow got hers put on.
So if it turns out that you need braces, remember that lots of your favorite celebrities wore them too. And keep in mind that, depending on your own situation, you may have several options to choose from.
If you would like more information about braces or orthodontic treatment, please contact us or schedule an appointment for a consultation. You can learn more by reading the Dear Doctor magazine articles "The Magic of Orthodontics" and "Orthodontics for the Older Adult."
By Coweta Dentistry Associates
July 02, 2014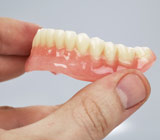 At first glance, you might think at-home denture repair belongs in the same category as Do-It-Yourself brain surgery and cloning your pet in the kitchen sink. But the fact is, you can actually buy a variety of DIY denture repair kits on line, send for them through the mail, even pick them up at some drug stores;you can even watch a youtube video on how to do your own denture repair. So if you're feeling like Mr. (or Ms.) Fix-it, should you give it a whirl?
Absolutely not! (Do we even have to say this?) Repairing dentures is strictly a job for professionals — and here's why:
First off, dentures are custom-fabricated products that have to fit perfectly in order to work the way they should. They are subject to extreme biting forces, yet balance evenly on the alveolar ridges — the bony parts of the upper and lower jaw that formerly held the natural teeth. In order to ensure their quality, fit and durability, dentures are made by experienced technicians in a carefully controlled laboratory setting, and fitted by dentists who specialize in this field. So just ask yourself: What are the chances you're going to get it right on your first try?
What's more, the potential problems aren't just that DIY-repaired dentures won't feel as comfortable or work as well. Sharp edges or protruding parts could damage your gums, make them sore or sensitive, or even lacerate the soft tissues. And even if these problems don't become apparent immediately, they may lead to worse troubles over time. Dentures that don't fit properly can cause you to become more susceptible to oral infections, such as cheilitis and stomatitis. They may also lead to nutritional problems, since you're likely to have difficulty eating anything but soft, processed foods.
Finally, the kits themselves just don't offer the same quality products you'd find in a professional lab. That means whatever repairs you're able to make aren't likely to last very long. Plus, they contain all sorts of substances that not only smell nasty, but can quickly bond your fingers to the kitchen counter — or to the broken dentures. (Imagine trying to explain that at the emergency room…)
So do yourself a favor: If your dentures need repair, don't try and do it yourself. Bring them in to our office — it's the best thing for your dentures… and your health.
If you would like more information about dentures or denture repair, please call our office to schedule a consultation. You can learn more in the Dear Doctor magazine article "Loose Dentures" and "Removable Full Dentures."