All our licensed professionals maintain the highest levels of accreditation and pursue ongoing education to stay abreast of the latest trends in dentistry.
Ruth Drive Location

56 Jefferson Street Location
50 Jefferson Street Location
Find helpful information in our digital library.
Posts for: June, 2014
By Coweta Dentistry Associates
June 17, 2014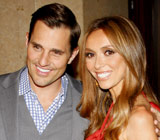 For some kids, having a cavity or two is just part of growing up. Not for Giuliana Rancic. When she was a child, the TV personality didn't have a single cavity — and she still doesn't. But for her husband Bill, co-star of the Style Network reality show Giuliana and Bill, it was a different story. A cavity-prone kid, he was never certain what a visit to the dentist might hold in store. "I can still remember the anticipation," he recently told Dear Doctor magazine. "I always hoped I would get out of the checkups without a cavity!"
Why do some people get more cavities than others? There are a number of factors at work, but to understand it better, let's look at how tooth decay occurs.
How Cavities Form
Cavities — also called dental caries — are small pits or holes in the teeth that are caused by tooth decay. Tooth decay itself is a chronic disease that can flare up when plaque isn't kept under control. A thin, bacteria-laden film, plaque sticks to tooth surfaces both above and below the gum line, and can build up in the absence of effective oral hygiene.
Of course, everyone has bacteria in their mouth, both "good" and "bad" (pathogenic) types. But when the bad guys outnumber the good, trouble can start. When you consume sweets, plaque bacteria process the sugars and release acid as a byproduct. The acid eats into tooth surfaces, causing decay — and cavities that need filling. Left untreated, decay can work its way into the tooth's pulp, resulting in infection and pain. Eventually, treatment might involve a root canal — or, in the worst case, extraction.
What can you do if you seem to be prone to cavities? One effective way to fight tooth decay is by maintaining good oral hygiene. Brush at least twice daily, for at least two minutes each time. Use a soft-bristled brush and a dab of fluoride toothpaste to clean all around your teeth. Most importantly, floss above and below the gum line, every day. And just as important, don't forget to have regular dental checkups every six months.
A Healthy Balance
Another cavity-fighting strategy is eating a balanced diet. Avoid soda, sugary "energy" drinks and sweet treats — but if you choose to consume sugar, have it with meals instead of between meals. This will give your saliva, which has natural cavity-fighting properties, a chance to work.
"It's all about maintaining a healthy balance," Giuliana told Dear Doctor. And Bill agrees: "I love nuts and fruit for a healthy snack," he said, adding that he's meticulous about brushing and flossing. And when the couple smiles, you can see how those healthy habits pay off.
If you would like more information on preventing tooth decay, please contact us or schedule an appointment for a consultation. You can learn more about this topic in the Dear Doctor magazine articles "Tooth Decay" and "Tooth Decay – How To Assess Your Risk."
By Coweta Dentistry Associates
June 02, 2014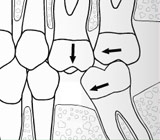 For most people, replacing missing front teeth takes a higher priority over missing back teeth. The reason is obvious: others can see those missing in front, but not necessarily those in the back.
From a functional view, however, you should still consider replacing missing back teeth. Not only will it improve your chewing ability, it may also prevent a chain reaction of negative effects to your remaining teeth.
Teeth are held in place in the jawbone by a membrane called the periodontal ligament. The ligament is a living tissue that allows teeth to move to keep contact with adjacent and opposing teeth as natural wear occurs. When a space is created by a missing tooth, this natural movement accelerates and the teeth may shift beyond normal ranges.
As a result you can encounter excessive mobility of teeth from bite irregularities, uneven tooth wear, bone loss, potential painful problems with the temporo-mandibular joints (connecting the lower jaw to the skull), and a loss in facial height.
There are three basic options for this kind of tooth replacement. The best option is dental implants: these free-standing replacements don't normally affect surrounding teeth, they're easier to clean, and they help support the bite. On the downside, there must be enough remaining bone to support the implant.
The next best option is a fixed bridge. This option only works, however, if there are teeth on either side of the missing tooth space capable of supporting the bridge, and they must be reduced in size by removing the enamel with the dental drill. They also have a tendency to retain plaque, the main cause of gum disease.
That leaves the last, and least favorable, option, a removable partial denture. They may also trap food and be difficult to wear. They can move in the mouth, stressing — and possibly loosening — the remaining teeth that hold them in place. With all its drawbacks, though, if a partial denture is the only solution to missing back teeth, it's a better alternative than doing nothing and risking long-term problems.
If you would like more information on replacement options for back teeth, please contact us or schedule an appointment for a consultation. You can also learn more about this topic by reading the Dear Doctor magazine article "Replacing Back Teeth."