All our licensed professionals maintain the highest levels of accreditation and pursue ongoing education to stay abreast of the latest trends in dentistry.
Ruth Drive Location

56 Jefferson Street Location
50 Jefferson Street Location
Find helpful information in our digital library.
Posts for: November, 2013
By Coweta Dentistry Associates
November 27, 2013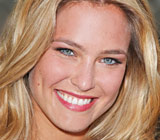 Let's say you happen to be sitting on a plane next to supermodel Bar Refaeli, who was recently voted #1 on Maxim magazine's Hot 100 list. You're a little nervous, but you want to make a good impression. What's the first thing she's going to look at? Your expensive suit? Your sculpted torso? How about — your smile!
"Teeth are the first thing I look at," explained the glamorous cover girl in a Maxim interview. "A nice smile with beautiful teeth is the most attractive thing."
We wholeheartedly agree. But, of course, not everyone is lucky enough to be born with a perfect set of teeth. What to do then?
"Let's just say that with today's orthodontists, I don't understand why people wouldn't fix them," Refaeli stated. Need we say more?
The Israeli supermodel, who has appeared in several Sports Illustrated swimsuit issues, knows what she's talking about. Refaeli started modeling as a young child, but had to put her career on hold for a few years while she got braces. When they came off, at age 11, she began her steady climb to the top of the modeling business.
Plenty of aspiring actors and models — as well as regular folks — get braces as children. But if you're serious about improving your smile, it's never too late to have orthodontic treatment. For adults, there are many options available in addition to the standard metal appliances.
Colorless ceramic braces offer a less noticeable way to correct misaligned teeth. Made of high-tech materials that resist staining, their translucent appearance blends so well with the look of your natural teeth that it can be hard to tell you're wearing them.
Clear aligners are an alternative to braces that are worn 20-22 hours per day. They consist of a series of precision-made, transparent "trays" that gradually straighten your teeth over a period of time. Best of all, you can remove them for special occasions — like meeting a supermodel.
Which type of orthodontic treatment is best for you? Why not come in for a consultation and find out! Working together, we can evaluate your situation and develop an effective, individualized treatment plan that fits your lifestyle.
If you have questions about orthodontic treatment, please contact us or schedule an appointment for a consultation. You can learn more in the Dear Doctor magazine article "Orthodontics For The Older Adult."
By Coweta Dentistry Associates
November 12, 2013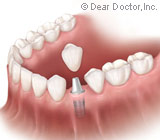 Maybe you've seen some marketing material for dental implants featuring smiling, silver-haired seniors. Perhaps this made you think that implants are a tooth replacement system that's primarily intended for older adults. If so, let's change that impression right now: Dental implants are suitable for almost all adults, not just older folks!
Today's best option for tooth replacement, implants can help most people who suffer from the problem of missing or failing permanent teeth. (In children, however, where the jaw is still growing, implants aren't generally used.) Of course, it is our goal as dentists to preserve as many of the natural teeth as possible. But when that isn't possible, implants offer the best option for tooth replacement.
The Implant System
What makes the dental implant system such a great option for replacing lost teeth? Let's start with the implant itself. This small, screw-shaped device is made of titanium metal, which has a unique property: When placed in the jaw, in a minor surgical procedure, it becomes fused with the living bone tissue. This provides a solid anchor for the visible part of the replacement tooth, the crown, which is attached to the implant by a connecting piece called an abutment.
Because the implant is securely fixed in the jaw, it provides the replacement tooth with a firm foundation that won't come loose — and it doesn't depend on other teeth for support, like bridges do. It also stops the process of bone loss, which occurs in the area of the jaw where a missing tooth was formerly located. The erosion of bone, which begins as soon as a tooth is lost, can create the appearance of premature aging, and may eventually lead to further dental problems.
Why You May Need Implants
Older folks aren't the only ones who experience tooth loss; younger people suffer from this problem too. Accidents and injuries are one cause, whether they are sports-related, or result from habits like biting pencils or grinding teeth. Lifestyle may be another factor. Poor nutrition, excessive consumption of sugary substances (including certain "sports" and "energy" drinks), and the lack of proper dental hygiene and professional care can allow moderate problems to get much worse.
A major cause of tooth loss is disease, such as tooth decay or periodontal disease. These can be a problem at any age. But a few conditions may cause serious dental problems in younger people — bulimia, for example. When stomach acids enter the mouth, they can rapidly erode the tooth enamel. Gastroesophageal reflux disease (GERD) can create similar problems.
When Should You Get Implants?
Preserving your natural teeth whenever possible is a major goal of modern dentistry. But when teeth can't be saved, it's time to consider implants. While they are initially more expensive than more traditional tooth replacement methods (like bridges or removable dentures), they can last for the rest of your life with only routine care. That's something no other method can claim, and it makes them a great value, especially for younger people. Plus, they feel completely natural and look great.
So, if you're confronting the problem of tooth loss, call our office for a consultation about dental implants. You can learn more in Dear Doctor magazine's in-depth guide, "Dental Implants."