All our licensed professionals maintain the highest levels of accreditation and pursue ongoing education to stay abreast of the latest trends in dentistry.
Ruth Drive Location

56 Jefferson Street Location
50 Jefferson Street Location
Find helpful information in our digital library.
Posts for: December, 2012
By Coweta Dentistry Associates
December 19, 2012
Let's talk about oral cancer. Yes, it's a scary subject — but the truth is, the more you know about it, the better able you are to protect yourself.
Who is more likely to get oral cancer? Because of your genetic disposition — heredity — men are twice as likely to develop oral cancer as women. African-Americans have a higher incidence than Caucasians. The disease is also related to aging, although in recent years many young people have been diagnosed with this disease.
Are some habits related to development of oral cancer? Risk factors include use of tobacco in any form, both smoking and chewing, chronic exposure to sun, and consumption of alcohol. Moderate to heavy drinkers have a three to nine times greater risk than non-drinkers. Tobacco smokers are at five to nine times greater risk than non-users, and users of snuff or chewing tobacco are at four times greater risk than non-users.
Where do most oral cancers occur? The most common areas are in the mouth itself, the lips, the tongue, and the pharynx (back of the mouth and throat).
What are the statistics for survival after treatment for oral cancer? Conquering cancer depends most on early detection. Since most cases of oral cancer are discovered at a late stage, survival is poor, with less than 60% surviving five years after treatment. When oral cancers are detected early, the survival rate is more than 80%.
What are some of the symptoms of oral cancer? Most oral cancers are "squamous" (small scale-shaped) cell carcinomas in the lining of the mouth. Signs of these cancers can be seen as white or red patches in the early pre-cancerous stage. These develop into an ulcer that does not heal.
When should you seek medical help? If you notice color changes (white or red patches) or sores or ulcers anywhere in your mouth that do not heal within two or three weeks, go to your dentist for a checkup right away. Sometimes the sores resemble cold sores. A definitive diagnosis requires a tissue biopsy, in which a small piece of tissue is removed under anesthesia and taken to a lab for microscopic examination.
What about regular routine examinations? An oral cancer examination should be part of your visit to our office. We will inspect your face, neck, lips and mouth for signs of cancer, feel the floor of the mouth and sides of the neck for any lumps, examine your tongue and the back of your throat. The American Cancer Society recommends a cancer related check-up annually for all individuals aged 40 and older and every three years for those between 20 and 29.
Contact us today to schedule an appointment to discuss your questions about oral cancer. You can also learn more by reading the Dear Doctor magazine article "Oral Cancer."
By Coweta Dentistry Associates
December 04, 2012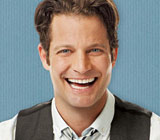 Design expert and television celebrity Nate Berkus has definite ideas about how to live. In a recent interview, he explained his ideas on design. He also talked about health, and how he keeps his teeth and mouth healthy.
From an initial design makeover that he did eight years ago on the Oprah Winfrey Show, Berkus has gone on to do 127 such makeovers. He was such a success that he now hosts his own daily talk show. He has also developed a line of home products for the Home Shopping Network and has his own design firm, Nate Berkus Associates. His clients include well-known restaurants and hotels as well as private homes. He has written articles for O Magazine and authored a book on the subject of transforming your home into a place you love.
"I realized many years ago that I wasn't going on Oprah to pick sofa colors and paint chips. I was there to lift people up through the way they live," he says. His secret to design success is to "go with what you love." He says, "Don't worry about mixing metals, eras or styles. If you love each item, you'll find a way to make it work."
His common sense practical attitude continues when it comes to dental health. Berkus is blessed with a healthy mouth and teeth. He doesn't feel anxious when visiting the dentist because he usually has a good report. He has not needed orthodontics or cosmetic dentistry. He thanks his childhood dentist for giving him fluoride treatments and sealants, and for teaching him healthy dental hygiene habits.
Berkus brushes his teeth twice or even three times a day, with a manual or electric toothbrush — depending on whether he is at home or traveling. He also follows his dentist's advice about flossing: "Floss the ones you want to keep!" He says that he tried tooth whitening once, but he felt that the whiteness was "too white." Now he simply works to maintain his natural tooth color and smile.
Contact us today to schedule an appointment to discuss your questions about maintaining healthy teeth. You can also learn more by reading the Dear Doctor magazine article "Nate Berkus, Helping Others Love the Way They Live."